Recreation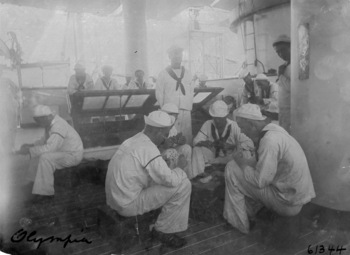 Gambling
One of the simplest ways to pass some time was a game of cards. While simple games of cards were allowed, gambling for money was not. Sailor Frederick Wilson commented on the disparity in enforcement of this rule, when a junior officer on board his ship, the battleship USS Oregon, was caught gambling. "So you can see that an officer and gentleman can gamble just the same as any ordinary soldier or sailor, but if caught, even shooting an ordinary game of craps, the Jackies get a couple of months' pay taken away and a term in the 'cooler.'" In this photo, sailors play a hand on deck of the cruiser USS Olympia.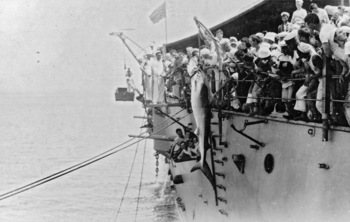 Fishing
Fishing was a way to have a bit of fun, while simultaneously improving rations at sea. In particular, ships on remote stations might fish out of necessity, being too far from home or a major city to resupply. Here, sailors on board the cruiser USS Maryland haul a large shark on board ship.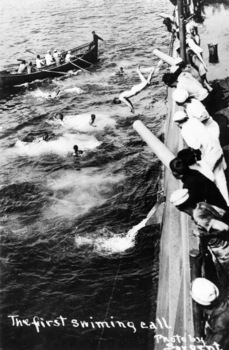 Swim Call
Another way to take advantage of life at sea was swim call. It was not only a way to have some fun, but in the absence of extensive bathing facilities, it was a quick and easy way to get clean. For ships in the tropics, it also provided a welcome break from the heat. Sailors in this photo plunge over the side of the battleship USS Rhode Island, after coaling ship.
Back to Top